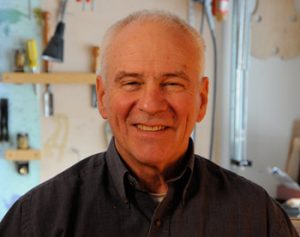 I began restoring, repairing and making classical and acoustic guitars in 1973, and transitioned into making classical stringed instruments in the early 1980's. These days I make violins, violas and cellos fulltime, from my home in Silver Spring, MD, as well as a limited number of repairs. I have a keen interest in acoustic adjustment and setup and have found that most instruments can be much improved, both in sound and playability by careful application of the procedure I use when setting up my own instruments.
My violins are patterned on the 1737 "Joachim" del Gesu and the 1716 "Medici" Strad violins. My cellos are modelled on either an 1854 instrument by Giuseppe Rocca or the "Duport" cello of Antonio Stradivari. My violas are based on the "Conte Vitale" Andrea Guarneri of 1676 (original back length 16 3⁄16 inches). I also offer this viola in 16 or 16 ½-inch variations.
I welcome inquiries for custom orders based on instruments by other classical Italian makers.
Howard was featured on September 7, 2012 in The Washington Post: For violin maker Howard Needham, a rarefied world >>.